We are your Specialist in Septic and Sewer Cleaning, Installation and Repair in Greene and Surrounding Counties in SW Ohio.
Since 1953 we have provided residential, commercial, and industrial services for area homes and businesses. We have earned our reputation as a prompt, dependable, and reliable provider of septic and sewer services at reasonable rates. It's a dirty job, but we love to do it!
We provide Certified inspections of your sanitary lines and storage tanks and can provide excavating services for new construction or service upgrades and repairs.
We now offer Electric Eel services!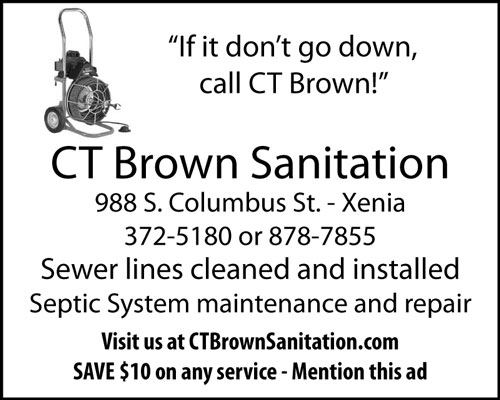 Timing is everything in keeping your septic system working properly. When was the last time you had yours cleaned out? Most systems should be inspected and cleaned about once a year. A backed up system can be a costly mess. Invest in a little preventive maintenance and you'll keep everything working. "If it don't go down, call CT Brown!" In and around Xenia OH and Greene County. Phone 937-372-5180